Happy Mother's Day to all those mothers out there!
This week we indulged in one of my other obsessions,
homemade beauty products
. I hate putting any chemicals on my skin and usually use homemade or organic products. I decided a great lesson for Mother's Day could combine jar decoration (craft / art) and beauty product making (which is a bit like cooking). All Mum's need a little pampering!! Although this wasn't as creative as our usual activity it did involve measuring, following directions and reading which are important skills for the children to practice. Ohh and did I mention it was fun and everything smelt yummo!
Homemade Lip Gloss
(from
Wellness Mama
)
This is a great simple recipe. I love coconut oil in lip gloss. You can also colour this if you wish by adding a natural colouring like beet root powder or a bit of your favourite lipstick.
You will need:
1 tablespoon Beeswax*
1 tablespoon Shea Butter*
2 tablespoons Coconut Butter/Oil (found at Health Food Stores)
10 drops Flavouring (we used Vanilla or Strawberry) (optional)*
Lip Gloss Containers*
Stickers and Permanent Markers to decorate containers
* I purchase these from
New Directions
. This is also where I buy my essential oils.
This makes about 15 small containers. I have lots of extras if people would like more....
How to:
Mix all the ingredients together in a bowl. Microwave until melted. Use a pipette or spoon to fill containers. Leave to set (about 10 mins). Decorate jars with permanent markers and stickers. I also labelled my jars by printing out the words on paper, cut out and glue on the jar. Hint: Cover with a coat of Mod Podge to make the paper waterproof.
Homemade Brown Sugar and Vanilla Sugar Scrub
(from
Chickens in the Road
)
This scrub has lovely brown sugar to exfoliate your skin, olive oil to moisturise, vanilla for a lovely scent and honey with antibacterial properties to heal any cuts. You can use sweet almond oil, coconut oil or jojoba oil instead of the olive oil. I make this with sweet almond oil as well as it has a less distinct smell.
You will need:
2 cups Brown Sugar
1/4 cup Honey
1 tsp Vanilla Extract
1/2 cup Olive Oil
Glass Containers (I used spice jars from Dollar King)
How to:
Mix all ingredients together in a bowl. Spoon into jars. Decorate jars with permanent markers and stickers. Tie a ribbon around each jar. Label as above.
How to use:
Wet your body, apply scrub all over body and then wash off. Be careful as it can make your shower floor a little slippery. Don't worry too much if your skin is a little oily, once you pat it dry with a towel it will feel soft and smooth. I also use this scrub on my face as it's not as coarse as other salt or sugar scrubs. Use once a week.
There are LOADS of delicious recipes on the Internet for Homemade Beauty Products. Once you start its hard to stop, you save lots of money and you know exactly what is in them. Try replacing your cleanser with apricot oil and your moisturiser with Jojoba oil, that's all I use. Coconut Oil is wonderful for your hair. I add some to my hair as a conditioning mask, leave a while (or even over night) then wash as usual.
Here are some links to more Body scrubs and homemade products:
Homemade Body Scrub Recipes by Homemade Gifts Made Easy
8 Homemade Salt and Sugar Body Scrubs By Tree Hugger
10 Easy Homemade Lip Balm Recipes by Dear Chrissy
Homemade Beauty Products by The Daily Green
Our artist of the week is MONET since there is a Monet exhibition happening in Melbourne at the moment.
Click here for details
. I highly recommend taking your children to it (it runs till September so plenty of time). We will look at Monet's works over the next few weeks and produce our own version of one of his paintings. I gave the children a copy of his "Poppy Field in Argenteuil" painting this week since it depicts a mother and child (and its Mothers Day!!). They may ask you who the Artist of the week is as I haven't told them yet (a little homework???).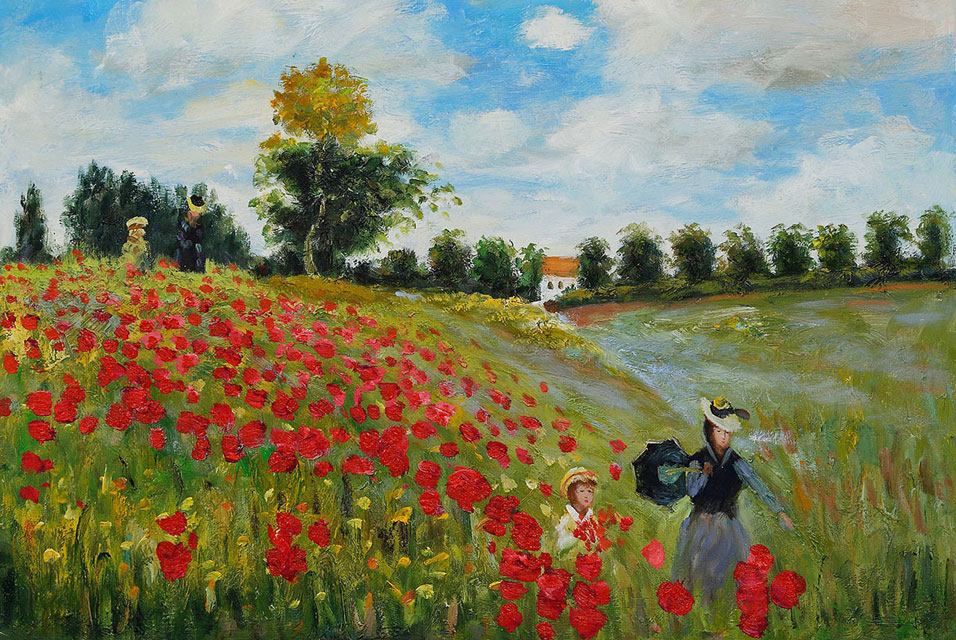 Cheers
Fiona