I've been wanting to do this lesson for ages and this week the time seemed right. I've been talking about what inspires artists and music is one element that has come up. Wassily Kandinsky was one of our artists of the week last term and his name has come up a few times (we likened our
Paper Circles
to his artwork as well).
It was a bit of a "paint a thon" during class this week, each child produced at least 5 paintings each in an hour and a half. There were no guidelines, they could paint whatever they wanted, I just told them to listen to the music and let it inspire them.....
dancing to Gangnam Style.....
I really enjoyed this class, so I hope this kids did too. It was really liberating just going with the flow, playing music and seeing what developed on their paper. We discussed each piece of music afterwards, talking about what colours people saw, what it made them think of and what it inspired them to paint To start I encouraged them to close their eyes and just listen to the music to get a feel for it. They could even paint the whole thing with their eyes closed if they wanted too.
it was rather messy.............
We mainly listened to Classical music - Holst: The Planet Suite to be exact. I love how each piece is so different in tempo. After listening to 4 classical pieces we finished the class with something totally different - Gangnam Style - what kid doesn't like that?? They were all moving to the beat, actually some were standing up and dancing! It was a fun ending to a fun class....I think some of the parents thought we were holding a disco rather than an art class when they turned up!
What you need:
Lots of paint in lots of colours (I had the colours pre mixed in tubs on the table)
White Paper (5 per student)
Paintbrushes (various sizes)
Music (we used classical music yet you could use anything)*
*I would love to see what they painted listening to Jazz, Reggae, Techno etc - maybe another lesson..
How to:
Play the music
Let them paint whatever they want.
Ensure they write their name and a number (track 1, 2 etc) on each piece of paper so you can sort them afterwards.
After each track ask them to explain what they saw and how they felt (write it down)
The Results:
1. Holst: The Planets Suite, Mars - The Bringer of WAR
Comments from the children:
Crazy, Tired, Scared, Waves Crashing, Black, Red (blood), Cold, Dark, Army, Tornado, Thunderstorm, Army in a thunderstorm, Purple and Blue, Black, Blue and Yellow, Waves up to a beach, Castles.
2. Holst: The Planet Suite, Jupiter - the Bringer of JOLLITY
Comments from the children:
Musical instruments, big, crazy, joy, big splattering, big bang theory, flying, a race
3. Holst: The Planet Suite, Mercury - The Winged Messenger
Comments from the children:
Spooky, Flowers, Shooting stars, ballet dancers, boat on water, pink, colourful, hungry, sun & music, eagle
4. Holst: The Planet Suite, Venus - The Bringer of PEACE
Comments from the children:
floating person in the sky, food in the oven and a lovely smell, ballerina, cupcakes, lines and splashes, pinks and blues, rainbow and sunset, fairies, water and land, slow, shiny, slow music, smooth music, waves, ripples, coloured waves, sunset, blurry
5. Gangnam Style- PSY
Comments from the children:
crazy, party, blue, green, yellow, all colours, sexy lady, horse, dancing
Our artist of the week is again Wassily Kandinsky. I couldn't do a lesson to music without talking about Kandinsky again. I love many of his quotes here are a few:
Color is the keyboard, the eyes are the harmonies, and the soul is the piano with many strings. The artist is the hand that plays, touching one key or another, to cause vibrations in the soul (Wassily Kandinsky).
A parallel between color and music can only be relative – just as a violin can give warm shades of tone, so yellow has shades, which can be expressed by various instruments. (Wassily Kandinsky)
The sound of colors is so definite that it would be hard to find anyone who would express bright yellow with bass notes or dark lake with treble... (Wassily Kandinsky)
Color provokes a psychic vibration. Color hides a power still unknown but real, which acts on every part of the human body. (Wassily Kandinsky)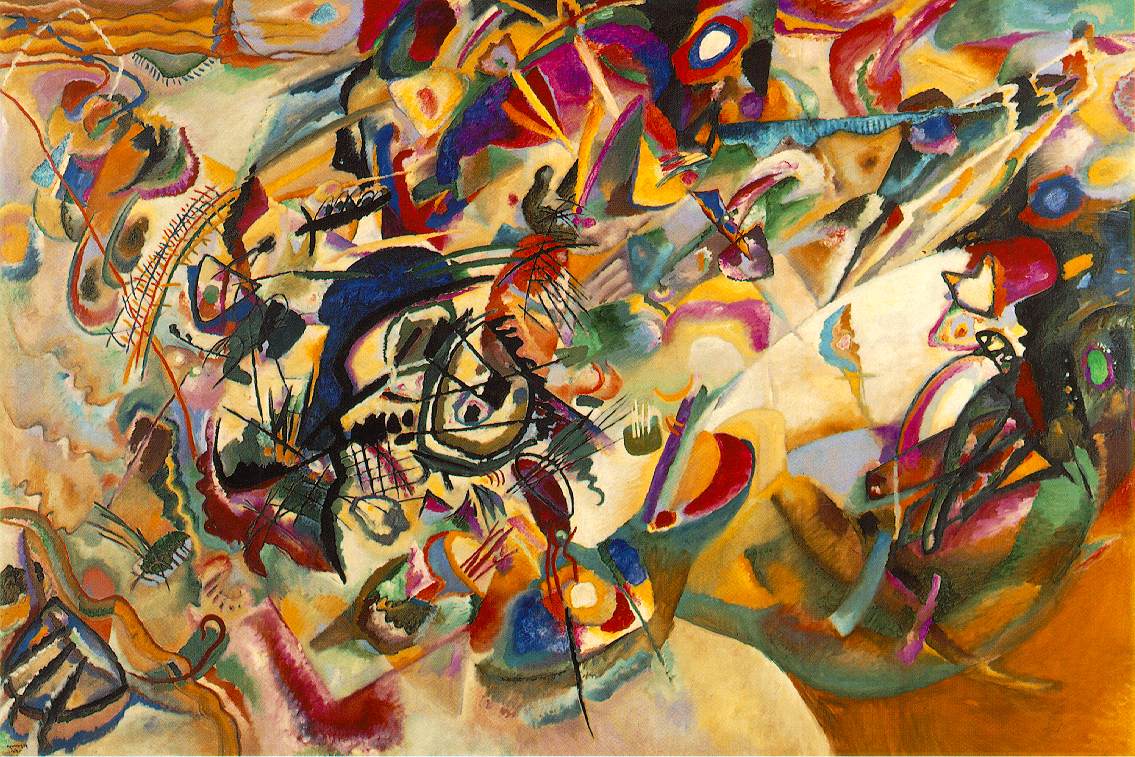 I showed them his Composition VII piece of artwork (above)
Cheers
Fiona